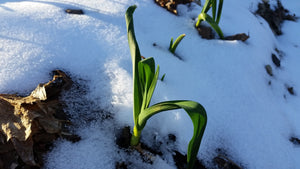 Northern Grower's Hardneck Variety Pack
Regular price $48.00 Sale
The Northern Grower's Hardneck Variety Pack contains easy-to-grow varieties that should do well in Northern gardens (New York, New England, upper Midwest, colder portions of the PNW). I'll usually include a Rocambole, a Porcelain, along with possibly a Marbled Purple Stripe, (regular) Purple Stripe, Glazed, Wild, New, and/or Asiatic type. I shop around the fulfillment center for whatever is left of the hardiest, coolest growing garlics I've got left, so it's always a pretty good deal. I try to avoid sending two varieties from the same family- so each pack is quite diverse, internally.
I will include free 12 inch garden stakes so you can keep them straight! You may make  up to (1) single specific variety request if you'd like- or even a negative request (like, "please don't send me X variety, I already have that one" kind of request).
I grow 100% of what is sold here, and my farm is a stone's throw from 43 degrees latitude north, in a Zone 5 climate, and I carefully store my garlic (my own seed stock, AND what ships to customers) in such a way to encourage proper dormancy and emergence behavior for this climate. My criteria for this pack are varieties which have done well for me for at least several years in a row, and which show resilience from also having minor setback years. I proudly ship off some of my best performers with this pack- workhorse types that rarely disappoint!
The Large Pack (2.5 pounds total) will have 4-6 varieties
The Small Pack (1.5 pounds total) will have 3-4 varieties
That is *roughly* 0.4 to 0.5 pounds per variety, but will vary box to box.
Also- please note, if you are also ordering other individual garlic types, I will try to make sure to not include those types in sampler packs that you buy. I.e. if I see you already want a half pound of French Pink, and you order a Northern Grower's pack, I won't include any French Pink in the pack, finding something else you haven't gotten yet. This ensures maximum bang for your buck, and the chance to try as many types as possible.
*until you're a more experienced grower, Turban or Creole types cannot be sold as "easy growers". I highly recommend them as great garlic, but will not include them in these hardneck packs (nor, obviously, Artichokes or Silverksins which make up the softneck world of garlic). For Northern folks looking for the best of those families, most likely to do well, I'd recommend Thai Purple, Ajo Rojo, Okrent, Lukan, Idaho Silver, and Oregon Blue, though there are plenty of others coming along as well.