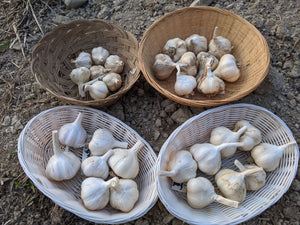 Longest-Storing Garlic Variety Pack
Regular price $48.00 Sale
The Longest-Storing Garlic Variety Pack contains varieties that are selected for their longest storing qualities. No more running out of quality garlic in April, May, and beyond of next year. Longest-Storing Packs are specifically tooled to supply you with garlic from January to July, until the next fresh crop comes in. Year-round garlic is the goal!
I'll include roughly equal amounts of Rocambole types, typically lasting til February or March, Artichoke types, which should last til May of next year, and Silverskin types that will last until June or July of next year, followed by a small portion of the Creole family*. *Creole types are hard to get to larger sizes in my climate, but their incredible flavor and storage keeps me growing them. The bulbs may be small, but once you try them you'll get the addiction! If you want larger volumes of Creoles, they have to be ordered by variety, and unfortunately they'll always be low in inventory/high in demand.
The Large Pack (2.5 pounds total) will have 4-6 varieties
The Small Pack (1.5 pounds total) will have 3-4 varieties
That is *roughly* 0.4 to 0.5 pounds per variety, but will vary box to box.
Also- please note, if you are also ordering other individual garlic types, I will try to make sure to not include those types in sampler packs that you buy. I.e. if I see you already want a half pound of Idaho Silver, and you order a Keeper's pack, I won't include any Idaho Silver in the pack, finding something else you haven't gotten yet.